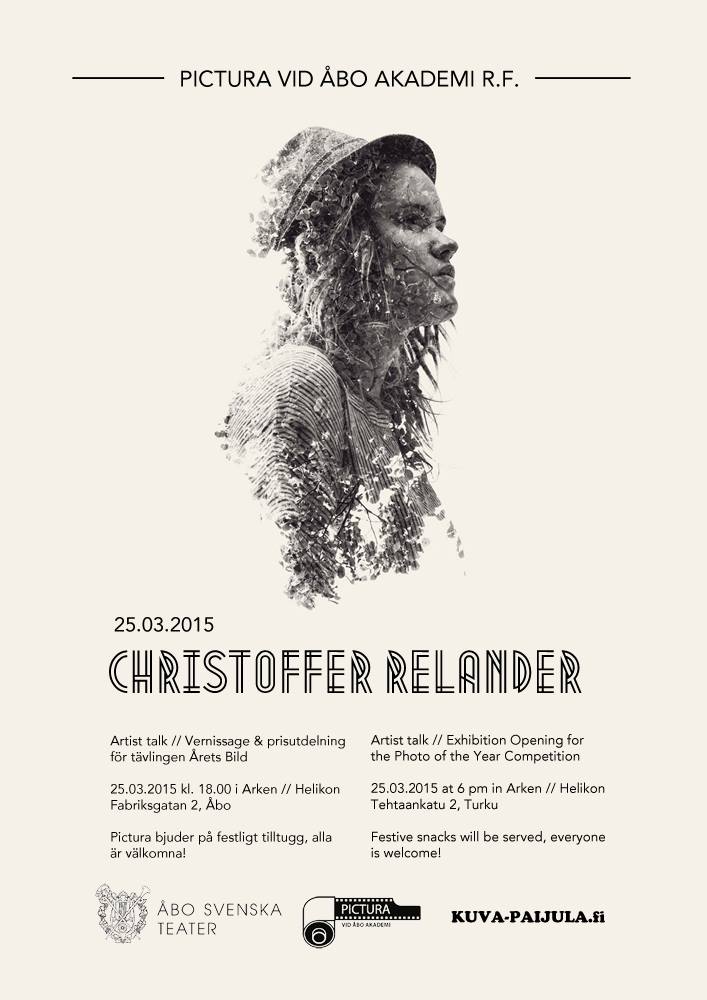 Snart är det dags för ett av vårens mest efterlängtade evenemang! På onsdag 25.3 avslöjas vinnarna i Picturas årliga tävling Årets bild, vi delar ut pris för de tre bästa bilderna och håller vernissage för de 20 bidrag som tagit sig ända till utställningen i Arkens aula.
Tillställningen börjar i auditoriet Helikon/Parnassos kl 18 då vi har äran att få presentera månadens gäst, konstfotograf Christoffer Relander som gjort sig känd internationellt tack vare sina multiexponeringar där naturen och människan står i fokus. Upplägget blir denna gång ett "Artist talk" snarare än en föreläsning, där alla som vill får ställa frågor till Christoffer och delta i den öppna diskussionen. Inspiration inför kvällen hittar ni på hans hemsida  http://www.christofferrelander.com!
Pictura bjuder på vin och festligt tilltugg under vernissagen, alla intresserade är hjärtligt välkomna!
Tid: Onsdag 25.3.2015, start kl 18.15
Plats: Helikon/Parnassos (ovanför Armfeldt-auditoriet), Arken, Fabriksgatan 2, Åbo
foto: Christoffer Relander
Soon it's time for one of the best happenings of the spring! On Wednesday 25th March we will reveal the winners of Pictura's annual Photo of the Year competition, give out prizes for the three best photos and celebrate the exhibition opening of the 20 pictures to be on display in Arken.
The event starts in Helikon/Parnassos at 6 pm where we'll present our guest for the month, fine art photographer Christoffer Relander who became known internationally thanks to his multi exposures focusing on the relationship between human and nature. The event will be in the format of an Artist's talk rather than a lecture, where everyone is welcome to ask questions and participate in the discussion. You can find more inspiration for the evening on his website http://www.christofferrelander.com!
Wine and festive snacks will be served during the exhibition opening, the event is free and open for anyone to join!
Time: Wednesday 25th March 2015, starting at 6.15 pm
Place:  Helikon/Parnassos (above the Armfeldt auditorium), Arken, Tehtaankatu 2, Turku