Uppdatering: På grund av vädret blev vi tvungna att flytta utflykten, nytt datum är 1.11! // Edit: Because of the weather we had to re-schedule the excursion, the new date is 1st November!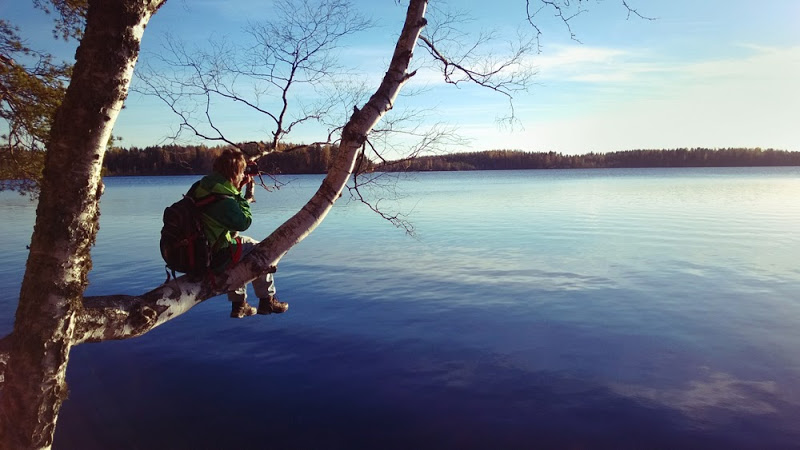 foto: Saara Oinonen
Nu är det dags för fotoutflykt till Kurjenrahka nationalpark igen! Lördagen den 1.11 åker vi ca 30 km utanför Åbo och njuter av de natursköna vyerna med vackra ruskafärger och myrkantade sjöar. Förra årets utflykt var riktigt lyckad och du kan gå in på http://fotoklubben.fi/galleri/?album=Kurjenrahka1310_pub för att ta en titt på några av de bilder som togs!
Preliminärt startar vi med BUSS kl. 12:00 från Åbo busstation. Bussen kostar 11,50 € eller 7,60 med studiekort/tur. Om det finns folk med bilar som åker ut får man gärna meddela oss på styrelsen(at)fotoklubben.fi så kan vi ordna samåkning och dela på bensinkostnaderna istället.
Viktiga saker att ta med på utflykten:
– Varma kläder och sköna promenadskor. Rutten runt sjön tar ungefär 3 timmar, beroende på fotopauser etc. Troligtvis kommer vi att stanna där mer eller mindre hela dagen och då kan det bli kallt. Gå kommer vi också att göra mycket så sköna skor är bra att ha!
– Extra tröja att dra på dig på matpausen, det blir kallare då man sitter ner.
– Vantar och mössa.
– Tillräckligt stor matsäck samt termos med något varmt att dricka + en flaska vatten eller två.
Kamera är förstås starkt rekommenderat, men du kan givetvis också komma med för att njuta av en vandring i naturen.
Bindande anmälan görs genom att klicka "attending" på utflyktens facebook event: https://www.facebook.com/events/789145791138280/?ref=51&source=1 alternativt via mail till styrelsen(at)fotoklubben.fi.
On Saturday 1st November Pictura welcomes you to a photo excursion to the lovely Kurjenrahka, ca 30km outside of Turku. You can take a peek at some of the pictures from last year's trip at http://fotoklubben.fi/galleri/?album=Kurjenrahka1310_pub!
The preliminary plan is to take the bus leaving at 12.00 from the Turku bus station. The price for the bus is 11,50 € or 7,60 € with a student card/one way. If people are taking their car please inform us at styrelsen(at)fotoklubben.fi, so we can arrange so that other people can join the car ride (and share the gas money instead).
We will most likely stay there the whole day and it is important to have warm clothes on, as it can get quite cold. Remember warm and comfortable shoes to walk in. A hat and mittens and an extra sweater to put on when we sit down to eat is also good to have. Take your own lunch pack with you and something warm to drink! 
Sign up for the excursion by confirming your attendance on the Facebook event: https://www.facebook.com/events/789145791138280/?ref=51&source=1 or e-mail us at styrelsen(at)fotoklubben.fi. Please note that this confirmation is binding!